In the Carnivores series, hunting at night automatically gives the hunter night-vision as standard equipment that cannot be deactivated. This system cloaks everything with a glowing green light. Although the description states that herbivores are asleep at night, all creatures are still very much awake at night.
Description
Edit
You are hunting at night using night-vision system. At night many of small herbivorous creatures are sleeping. However, carnivores are more aggressive at night.
Carnivores Cityscape Edit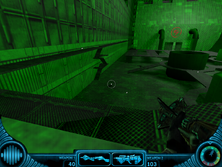 In Carnivores Cityscape, night vision can be triggered on/off at will. Unlike thermal optics, it doesn't run on a limited battery supply and can be used throughout an entire mission.
Primal Prey Edit
Cost: $15,000- These binocs feature light amplification for a short range view of your surroundings at night.
In Primal Prey, these night-vision goggles bathe your limited viewing range in green light.
Areas
Animals

Weapons
Equipment

Nightvision
Humans
Terminology
| | |
| --- | --- |
| | This article is a stub. You can help the Carnivores Wiki by expanding it. |
Ad blocker interference detected!
Wikia is a free-to-use site that makes money from advertising. We have a modified experience for viewers using ad blockers

Wikia is not accessible if you've made further modifications. Remove the custom ad blocker rule(s) and the page will load as expected.