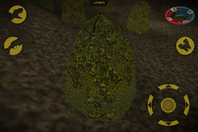 The nesting grouds are a location in "Manya Jungle", featured in Carnivores 2 and Carnivores: Dinosaur Hunter. The grounds are located in a rocky cave maze on the eastern portion of the island. Once the hunter enters, he will hear and see huge eggs (not belonging to any known dinosaur).
The eggs closely resemble those of xenomorphs, and the cracking noise heard within the cave is the same as that heard in the film Alien (the first appearence of the xenomorph). However, the description insists that they are dinosaur eggs, likely for copyright reasons.
Ad blocker interference detected!
Wikia is a free-to-use site that makes money from advertising. We have a modified experience for viewers using ad blockers

Wikia is not accessible if you've made further modifications. Remove the custom ad blocker rule(s) and the page will load as expected.